Measures for individuals with sensory disabilities in education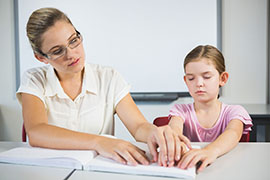 OBJECTIVE OF THE MEASURE
To promote the scholastic and social inclusion of students with sensory disabilities, and help improve their communication and learning skills.
To help students with visual and hearing impairments overcome communication and participation difficulties in achieving academic and educational results.
To support the development and autonomy of students and lessen disadvantages in learning processes, school inclusion and socialization.
ELIGIBILITY
Eligible for access to this measure are:
individuals with sensory disabilities attending nurseries, pre-school, primary school, lower secondary school or higher secondary school or vocational training centres, resident in Lombardy, and in possession of certification of their functional diagnosis and sensory disabilities which clearly expresses their need for assistance with communication.
More precisely:
individuals affected by absolute blindness (as per Article 2 of Law 138/2001);
individuals affected by partial blindness (as per Article 3 or Law 138/2001);
individuals affected by severe visual impairments (as per Article 4 of Law 138/2001);
individuals affected by medium to severe visual impairments (as per Article 5 of Law 138/2001);
individuals affected by deafness that is congenital or has been acquired during the developmental age and who have spoken language learning impairments, provided that the deafness is not exclusively psychic in nature, or dependent on causes of war, work or service (as per Article 1 of Law 381 of May 1970);
individuals with hearing loss of more than 60 dB in both ears, even when supported by hearing aids (as per Ministry of Health Decree of 5 February 1992).
TYPE AND CHARACTERISTICS OF THE ASSISTANCE
Specialist interventions in the school or educational environment (including nursery schools) by trained specialist figures, via qualified providers, chosen by the family.
The service can be provided by two professional figures: the communication assistant and blindness/Braille specialist, with adequate experience and/or training in supporting students with sensory disabilities in various school activities.
The specialist intervention is intended for the entire school or educational year.
HOW TO USE THE ASSISTANCE
To take advantage of the school inclusion services, family members of people with sensory disabilities, or the individuals themselves, must submit the appropriate application form and attach the necessary documentation exclusively via the online platform of the Lombardy Region at www.bandi.servizirl.it, within the terms indicated by the Regional Council of reference for ongoing school or educational year.
Applications may also be submitted via the Social Service Office of the municipality of residence.
Having received an email from the "Health Protection Agency" (ATS) confirming the application validation, the parents can choose a provider - which will prepare an Individual Plan - from the list available on the aforementioned website (under the section referring to "Supplementary school inclusion services for students with sensory disabilities - educational year 2021-2022").
INFORMATION AND CONTACT
For further information, you can contact the competent offices of the "Health Protection Agency" (ATS) of Val Padana by telephone or email: