Assistance in purchasing hairpieces for patients undergoing cancer treatment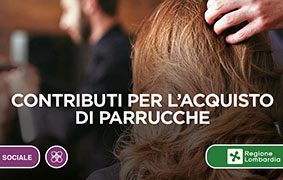 OBJECTIVE OF THE MEASURE
The purpose of the measure is to protect the health and well-being of the individual and the family, particularly in situations that may negatively affect physical and mental well-being.
ELIGIBILITY
Eligible for the assistance are patients suffering from hair loss caused by cancer treatment, who, therefore, need a prosthetic hairpiece. They must be residing in Lombardy, undergoing chemotherapy or radiotherapy for cancer treatment that can cause hair loss, and have not submitted the same application already in the same calendar year.
TYPE AND CHARACTERISTICS OF THE ASSISTANCE
Economic measure:
assistance per person up to a maximum of € 250.00 for the purchase of a hairpiece;
assistance per person up to a maximum of € 400.00 for the tricology prosthesis.
HOW TO USE THE ASSISTANCE
Eligible individuals may choose whether to buy the hairpiece themselves or rather through an eligible social services provider.
Applications for the assistance must be submitted:
or
by the social services provider entitled to make use of the measure (see Decree No. 19022/2019 under attachments) exclusively on the "Bandi Online" platform, after verifying the eligibility of the person requesting a hairpiece;
the trichological prosthesis can only be purchased on its own and the request for contribution must be submitted by the citizen who meets the requirements, after registration and / or authentication on the platform "Bandi on Line".
Applications from citizens or social services providers can be made, as indicated above, until the allocated economic resources have been exhausted.
INFORMATION AND CONTACT