Open residence healthcare support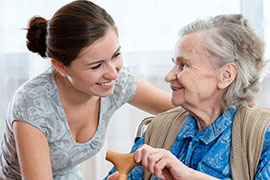 OBJECTIVE OF THE MEASURE
To support staying at home for people with certified dementia or the elderly aged 75 or over who are not self-sufficient.
To maintain the residual capacities of the beneficiaries for as long as possible, slow down, where possible, the deterioration of various functions, and avoid or delay the use of definitive hospitalization at a facility.
ELIGIBILITY
People with dementia or non self-sufficient elderly people aged 75 or over, recognized as disabled at 100%.
In both cases, the individuals must have at least one family and/or professional caregiver who provides assistance during the day and the week.
TYPE AND CHARACTERISTICS OF THE ASSISTANCE
The measure consists in interventions of a primarily health and social nature through qualified interventions at home or at day facilities.
The measure also offers support to the caregiver in providing care through targeted interventions that are not substitutes for those already guaranteed by the consolidated network service chain (ADI, SAD, Integrated Day Centres, etc.).
The measure, whether at the person's home or at day facility, is provided by accredited nursing homes (RSA) in the Lombardy Region, or by Integrated Day Centres (CDI) located at the nursing homes.
HOW TO USE THE ASSISTANCE
The citizen (or a family member) interested in the measure must apply directly to the nursing home (RSA) selected from the list of those having signed the contract with the "Health Protection Agency" (ATS) (see the ATS Val Padana website at https://www.ats-valpadana.it/rsa-aperta).
INFORMATION AND CONTACT
List of RSA members of the Crema area:
https://www.ats-valpadana.it/documents/1654672/11583798/RSA+Aperta+Crema.pdf/b562f36b-7e9e-59d5-3a7b-77af5b551148
List of RSA members of the Cremona area:
https://www.ats-valpadana.it/documents/1654672/0/RSA+Aperta+Cremona.pdf/0f81ba7f-87c8-c9ee-4e06-ac688c00ad39
List of RSA members of the Mantua area:
https://www.ats-valpadana.it/documents/1654672/0/RSA+Aperta+Mantova.pdf/bee07ffa-faad-58c3-1df2-bc64a37e6b61