Free nurseries measure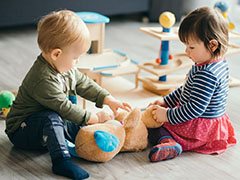 OBJECTIVE OF THE MEASURE
The objective of the measure is to contribute to reducing the cost of attendance at public or private nurseries and micro-nurseries, in agreement with the local municipality.
The contribution is paid directly to the participating municipalities that are listed in the attachment published on the Lombardy Region website at the link:
https://www.bandi.regione.lombardia.it/procedimenti/new/api/bandi/bando/allegato/download/8a5b26ad83ddb0910183e4ff798b2a76.
ELIGIBILITY
Family units (couples or single parents, including adoptive and foster parents).
In particular, at the date of submission of the individual application, the families must meet the following requirements:
having children aged between 0 and 3 years enrolled in public and/or private nursery and micro-nursery facilities of the municipalities participating in the Free Nurseries Measure - Bonus 2022-2023;
having an "Equivalent Economic Situation Indicator" (ISEE) - ordinary, current or minor in 2022 (in the event that the municipality requires it for the application of fees) - less than or equal to €20,000.00;
monthly fees payable by the parents exceeding €272.72.
TYPE AND CHARACTERISTICS OF THE ASSISTANCE
The measure provides a contribution for families to cover monthly fees exceeding the amount of €272.72 reimbursable by the National Social Security Institution (INPS).
HOW TO USE THE ASSISTANCE
The families must submit an application for the Free Nurseries Measure 2022-2023 exclusively via the "Bandi Online" platform at www.bandi.servizirl.it, from 17/10/2022 to 11/11/2022 at link https://www.bandi.regione.lombardia.it/procedimenti/new/bandi/bandi/comunita-diritti/cittadinanza-attiva/avviso-l-adesione-famiglie-misura-nidi-gratis-2022-2023-RLD12022027366.
INFORMATION AND CONTACT
For any clarification or further information regarding the measure:
call the dedicated regional number, (+39) 02 67653333, from Monday to Thursday, 9:30 pm to 12:30 pm, and 2:30 pm to 4:30 pm, on Friday only in the morning from 9:30 am to 12:30 pm; or the Lombardy Region Call Centre on (+39) 800 131 151;
send an email to: nidigratisfamiglie2223@regione.lombardia.it.